Oversupply of office spaces in Indonesia, particularly Jakarta, has led to the decline in the occupancy rate in 2018 amid the country's economic slowdown. But the growing global trend in flexible co-working space has spread to the country.
Global real estate services and investment management company, Collier International Indonesia said in its latest report that office occupancy fell to 81.1 percent in the first quarter of 2018, particularly from vacant spaces in office buildings completed in 2017 and 2018.
Several office buildings that were completed in 2015 and 2016 are still approximately 50 percent occupied as of the first quarter 2018.
. (./.)
The sharp decline in occupancy in Premium Grade office buildings was more due to the influx of new supply in the first quarter of 2018. Several Premium Grade buildings showed moderate improvements in occupancy. "Due to additional new supply of upscale buildings coming online this year, we anticipate a declining occupancy trend at least through the third quarter of 2018. A similar situation is likely for Grade A buildings, despite their stable occupancy since last year," it said.
The report said that this quarter marked two notable buildings coming online, although comparatively smaller to those in the CBD. The Premium Office Suites, located in Sunter, North Jakarta, and Hermina Tower, located in Kemayoran, Central Jakarta, officially opened in the first quarter of 2018, according to the report. 
The total additional 40,000 sq m from these two buildings brought the cumulative supply outside the CBD to 3.1 million sq m, an increase of 3.2 percent year of year.  "In the remainder of 2018, there should be additional supply from 11 office buildings that will complete construction and start operation. These 11 office buildings will contribute around 250,000 sq m of space," the report said.
It said that Pantai Indah Kapuk (PIK), one of the main commercial areas in North Jakarta, should see the addition of at least two buildings through the end of 2019.
The increase of commercial office buildings at PIK, namely Arcade Business Center and Agung Sedayu Office Tower, will complement the concept of an integrated business area, where retail centers and upscale residential developments already exist.
"TB Simatupang are expecting two office buildings in 2018, The Sima and Zuria Tower. These establishments will bring the cumulative supply in TB Simatupang to 1 million sq m in 2018," it said.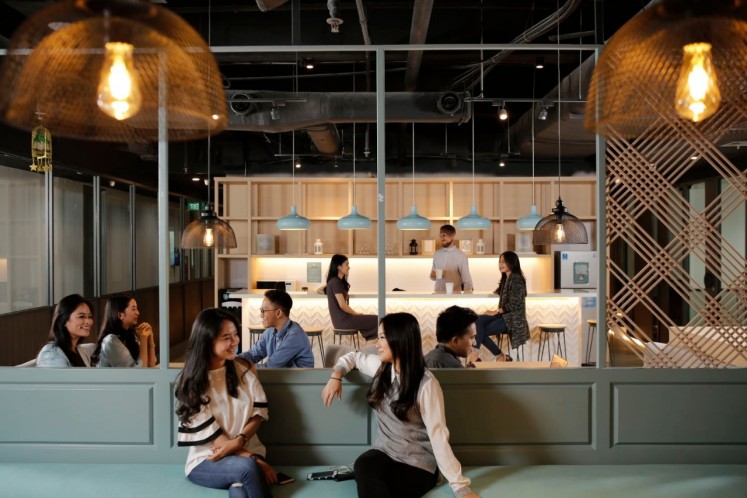 . (./.)
Meanwhile, the vacancy rate at CBD area reached 22.2 percent in the first quarter of 2018, an increase from 21.5 percent recorded in the fourth quarter of 2017, according to Savills Research & Consultancy.
The highest rate of vacancy is seen in the premium class and A class, at 30.7 percent and 20.7 percent respectively. "Meanwhile, the office vacancy rate for B and C class is 15.9 percent and 13.9 percent respectively," the report said.
The significant oversupply of office spaces in the period was not followed by the increase in demand, which has led to the rising vacancy rate, it said.
. "The higher oversupply is predicted to occur next year. Vacancy may reach 27 percent – 28 percent," said Savills Research & Consultancy director Anton Sitorus.   
Despite most office building operators lowering their rental rate to attract new tenants, the economic slowdown that currently hits Indonesia has made tenants become increasingly price sensitive, prompting them to seek workspace options.
Shift in working culture
Amid the soaring vacancy rate in office space, there has been growing shift in working culture that asserts more on flexibility. 
Co-working space business in Indonesia sees an ever-growing demand to fill the gap in the country's market, according to real estate consultant Cushman & Wakefield Associate Director Christopher Widyastanto.
Christopher called the trend of co-working space a "revolution" since it changed the way people worked, with a work setting that favored flexible office arrangement and networking opportunities.
With the growing market in Indonesia, co-working business, including the established global players, has started to pave their way into the country, according to Christopher.
"[It is] especially to fill in the gap of current market condition, which is still pretty much on an oversupply condition and still on a Tenant's Market condition," he said.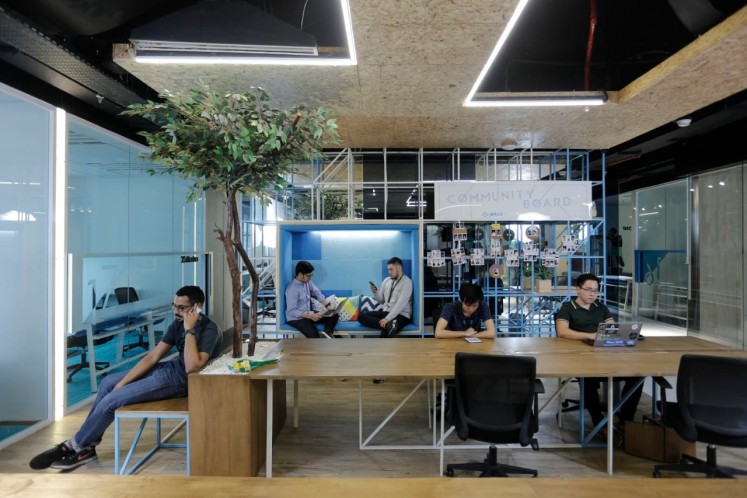 . (./.)
Co-working spaces, membership-based workspaces, are known for offering environments that are conducive to innovation, collaboration and productivity.
Flexible workspace solutions that co-working space operators offer, for example, has become more attractive for startups given the availability of short-term leases.
"Co-working space also offers cheaper alternative than leasing in a traditional office space, one of the benefits that attract members, " said a co-working member, who prefer to remain anonymous.
The rapid digital technology, such as real-time access, keyless door access, automation via apps will play bigger roles in how people use shared spaces, he said.
COCOWORK, which stands for community, collaboration and workspace, formerly known as EV Hive, has been established with a mission to provide flexible working spaces and a nurturing community for individuals and companies to start and grow their businesses across Indonesia and Southeast Asia.
Currently, COCOWORK is the market leader in Indonesia with 21 locations in Jakarta and Medan, managing more than 30,000m2 of space with more than 3,000 members.
Carlson Lau, CEO and Co-Founder of COCOWORK said that the coworking concept that COCOWORK offers provides way to improve work productivity through a flexible working space and also "a community that is designed to widen the knowledge and increase the creativity of each individual."
 "We believe that work is an inevitable part of the path to success and impacting the world. As a co-working space, our role is to make work be more fun and energizing," Carlson added.