Posted by:
Category:

Coworking Industry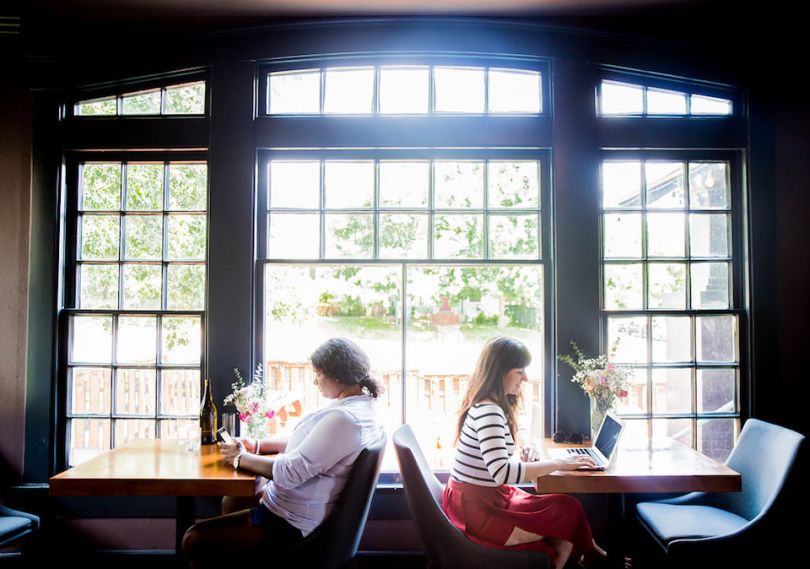 Austin's restaurant scene is as hot as its tech scene.
Beyond our city's growing reputation as a hub for both industries, the two sectors share more in common than you'd think. For one, like with startups, an innovative concept won't keep a restaurant afloat if the execution isn't near flawless.
A new coworking startup called Reset hopes to help out both sectors by capitalizing on the unused daytime seating of dinner-serving restaurants.
Wouldn't it be cool if we could just work from here?"
Friends Siri Chakka and Silva Gentchev, two 2018 University of Texas McCombs School of Business graduates, co-founded the modern workspace concept after experiencing working remotely first hand.
"[Silva] works part-time remote, and I work full-time remote," said Chakka. "It's the first time either of us have worked remotely, and we've learned about the struggles and isolation that come with it."
While enjoying a meal at a new Eastside restaurant with an aesthetically pleasing atmosphere, the idea dawned on them.
"I asked Silva, 'Wouldn't it be cool if we could just work from here?'" said Chakka.
The two got to planning.
If the concept sounds familiar, it's because it has been attempted in Austin before. Switch Cowork launched in the fall of 2016 and partnered with local restaurateur Bridget Dunlap at her E. 6th Street eatery, Trackside. Both the restaurant and the coworking company have since closed.
But fortunately for Reset, Christa Freeland, the co-founder of Switch Cowork, was more than willing to offer Chakka and Gentchev "lessons learned" to help them avoid the same mistakes that she had made. Freeland now serves as an advisor to Reset.
"She told me over the phone that she thinks there is something there; they just weren't able to execute it right," said Chakka. "We've been able to start from a leg up with her insight."
One of the biggest adjustments from Switch to Reset is location options. Unlike Switch, which offered one spot, Reset has locked in three partnering restaurants scattered throughout Austin. Nightcap, off of W. 6th, will open for coworking hours at the end of this month with Tillery Kitchen, on E. Cesar Chavez and L'Oca D'Oro, in the Mueller District, expected to open for coworking hours in September.
"Christa had said partnering with a real estate developer on Switch ended up being a double-edged sword," said Chakka. "We're going after local, independent restaurants, where the GM is usually the decision-maker."
We're going after local, independent restaurants."
In addition to being locally operated, Chakka said they are looking for aesthetically pleasing restaurants with plenty of natural light and easy parking — places you'd want to work out of.
"Traditional coworking amenities are attractive, but the price is too much," said Chakka.
Reset offers individual day passes for $10 each, 10-day passes for $80 and unlimited access for $150 per month. For comparison, most coworking spaces charge about $25 for day passes and $300 for monthly hot desk options a few times a week.
Reset memberships will also include "Supper Club" networking events, discounted happy hours and dinners, and other events that showcase its partnering restaurants and forge relationship building amongst members.
Chakka added that while the goal is to set remote employees up with a new approach to coworking, an equally important goal is to support local restaurants.
"A lot of the conversations that are happening right now in Austin about land use and development affect not just individuals but also small businesses and restaurants," said Chakka. "Chain restaurants are on the rise and independent restaurants are down 3 percent overall from last year. I love Austin's foodie community, and we're taking a sharing economy approach to restaurants to help maintain it."