Posted by:
Category:

Coworking Industry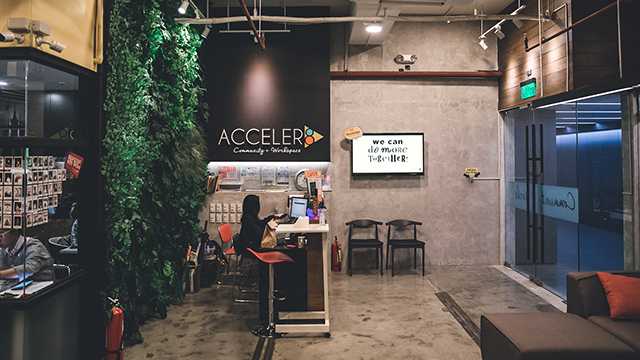 Acceler8 is best known for its first two coworking spaces in Salcedo Village and the Finman Building
Talk about the startup ecosystem and people will often bring up its many whats, whos and whys: what types of innovative businesses are being built, who the founders behind these startups are and why they want to become successful—or the problems the startup aims to address.
Mikko Barranda's business takes care of the wheres—where a startup forms, learns and grows. And as it turns out, he also has a hand in when startups can get their names out and how they can become successful.
He's the co-founder and CEO of Acceler8, one of the most notable names in the country's young but rapidly growing coworking space industry. It is best known for its two main spaces in Salcedo Village and the Finman Building, where it has provided over 200 companies a flexible office space within the Makati central business district (CBD) since the company was established in 2015.
These 200 companies aren't all startups—Barranda says there's a "good number of" startups and SMEs, but some are already large corporates. And he sees that division as beneficial to both sides, as the setup allows startup founders and established business owners to learn from each other.
"If you're an entrepreneur starting for the first time [and] you're holding office with a company that's been there for 10 years, you have a lot to learn from them," Barranda explained to Entrepreneur Philippines. "And a lot of the corporates that have been active for 10 years have a lot to learn from the companies that are just starting today because they're more adept in technology [and] they know what's happening in the scene. So there's a symbiotic relationship between both."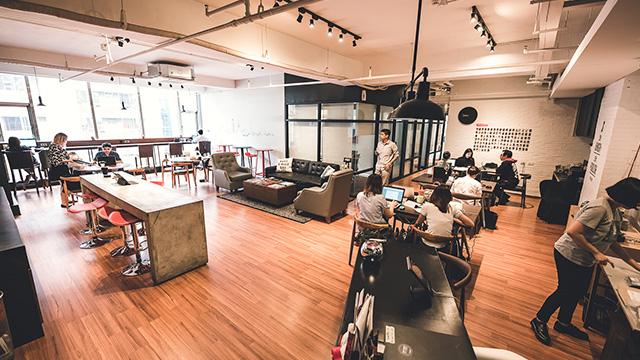 While it is best known for its spaces, Acceler8 strives to provide "more than just real estate" for its clients, according to Barranda
ADVERTISEMENT – CONTINUE READING BELOW
It's one of the many efforts Barranda and the Acceler8 team do to ensure that each client gets more out of the coworking space than a place to work. And it's this holistic push that has allowed Acceler8 to become a multinational brand.
"We really made an effort to be more than just real estate," said Barranda.
Related story: This Co-Working Space is a One-Stop Shop for Starting a New Business
Services Beyond Space 
Barranda classified Acceler8's services into three, with the first being as a provider of flexible office space. Users can rent workspaces of various sizes from a seat in a shared desk to a private serviced office. The company also offers virtual office services, where clients can avail of a Makati CBD address and a virtual assistant regardless of where they are actually based.
But in that regard, Acceler8 has no shortage of competitors. A study by real estate analyst Leechiu Property Consultants—where Barranda sits as a director—counted 32 other coworking spaces in Metro Manila. The same study also listed 51 serviced offices around the region, further adding to the numerous players in the flexible workspace industry.
"Any Tom, Dick and Harry can open a space next door and have a much better, aesthetically looking coworking space, much lower prices, and the guy that was just primarily looking for that real estate will eventually look to the next space and be given a better deal," said Barranda.
Related story: Looking for Office Space? Here's a Field Guide to Serviced Offices and Coworking Spaces in BGC, Makati and Ortigas
Acceler8's way of standing out from the competition is through solutions, the second of its three major services. Barranda described this as an "end-to-end" service for entrepreneurs who want to formally establish their businesses.
"If you wanted to come in today and you wanted to start your business, then we can help you with incorporation, legal, recruitment, accounting, etc.," he added. "You don't need to talk to all these other providers."
ADVERTISEMENT – CONTINUE READING BELOW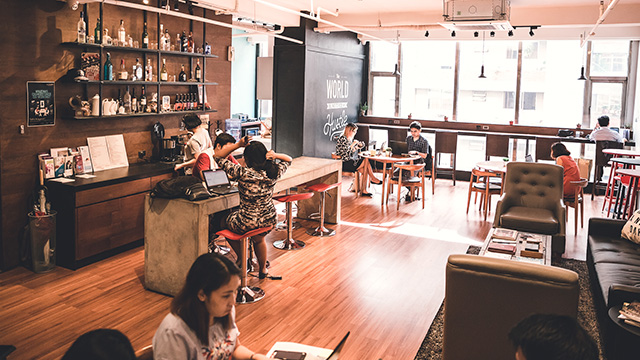 Acceler8 has over 200 clients using its flexible office services, which range from small startups to large corporates
The company does this by connecting these startups with professionals, either within the team or outsourced, who will then help them with those processes. Solutions can drastically reduce the time needed to set up a business and ensure that they are making the right steps legally.
Barranda calls the company's third service opportunities, which he said is "more intangible" but just as equally important as the other two. These opportunities can range from in-house events such as workshops and trainings to simple introductions to the right people.
"If they're looking for capital, we connect them with investors and venture capitalists," said Barranda. "If majority of people say we want to learn about this, we bring that here, as opposed to them going out and looking for it."
The team makes sure that they always have a pulse of what the clients need and leverages on their connections to meet these needs. That's what fuels the types of events they hold, the types of mentors they bring in and the types of services they provide on top of a place to work.
It's this holistic approach that gives its startup clients the opportunity to grow, scale and eventually become successful. And while Acceler8 will always be best known for its spaces, Barranda knows that what they are providing is much more than a place to work.
"People will always feel that if you build them open space, people would naturally connect, which is not the case," said Barranda. "There are a lot of things that are happening at the back to fuel the connection."
"You engineer serendipity," he added. "Serendipity will come but you're sort of putting your hand out there for it to happen much more often."
ADVERTISEMENT – CONTINUE READING BELOW
Expansion moves 
Engineering serendipity has proven effective for Acceler8, as it has expanded its business beyond running the two spaces in Makati. Most directly, it announced that it will be opening another coworking space soon, which will be located in Rockwell Center.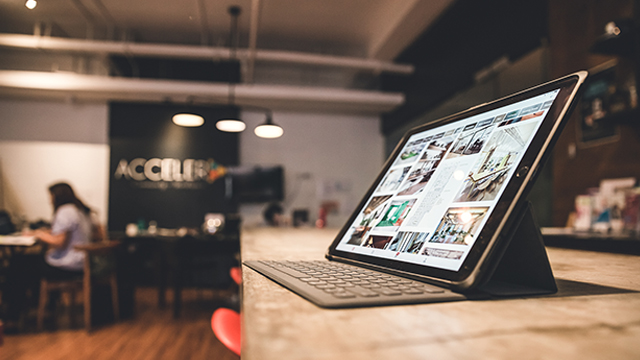 Beyond just giving space, Barranda and the Acceler8 team makes sure that each client benefits from their membership by "engineering serendipity" in the background
But it has also began to make its mark internationally. In early 2018, Barranda and fellow Acceler8 co-founder Albert Goh consolidated their coworking space brands to form UnionSpace, which now runs 10 locations across four Southeast Asian countries. With the 10 spaces being linked by one brand, each Acceler8 client in the Philippines will also be able to work in the UnionSpace locations in Indonesia, Malaysia and Thailand.
"Tenants in our space can also grow regionally together with us because we can now bridge them to a lot of these countries and to a lot of the locals there," said Barranda. "That's the value that we can bring to a lot of the clients."
With a solid foundation locally and its ambitious expansion abroad, Acceler8 is positioned to help even more startups grow both in and out of the Philippines. And no matter where the coworking spaces may be, Barranda is sure that they will provide each of their clients all the solutions and opportunities they need to grow.
"We don't leave it to just chance, that people are gonna be coming in and connect right off the bat," said Barranda. "There's some real processes in the background. And it's the only way for us to scale."
*****
Lorenzo Kyle Subido is a staff writer of Entrepreneur PH